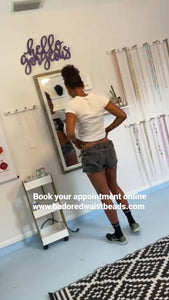 We are located in Port Saint Lucie
***What to expect at your session
•I will go over the color meaning 
•We will discuss your goals/intentions
• I will assist you with selecting mantras/affirmations for each waist bead
• I will answer all your questions 
• I will tie your waist beads
• This is a safe space for all humans 💕
Please do not have any other adults in the space with us. If you have children, I understand. Please call me at 754-610-2543 to discuss what that will look like for your experience. Cell phones must be turned off during the session. This time is for you!
*** Funds are refundable if the booking is canceled 48 hours in advance.
The $20.00 charge goes towards your waist bead purchase. 
The entire deposit must be used at your appointment. If you have any questions please call me.