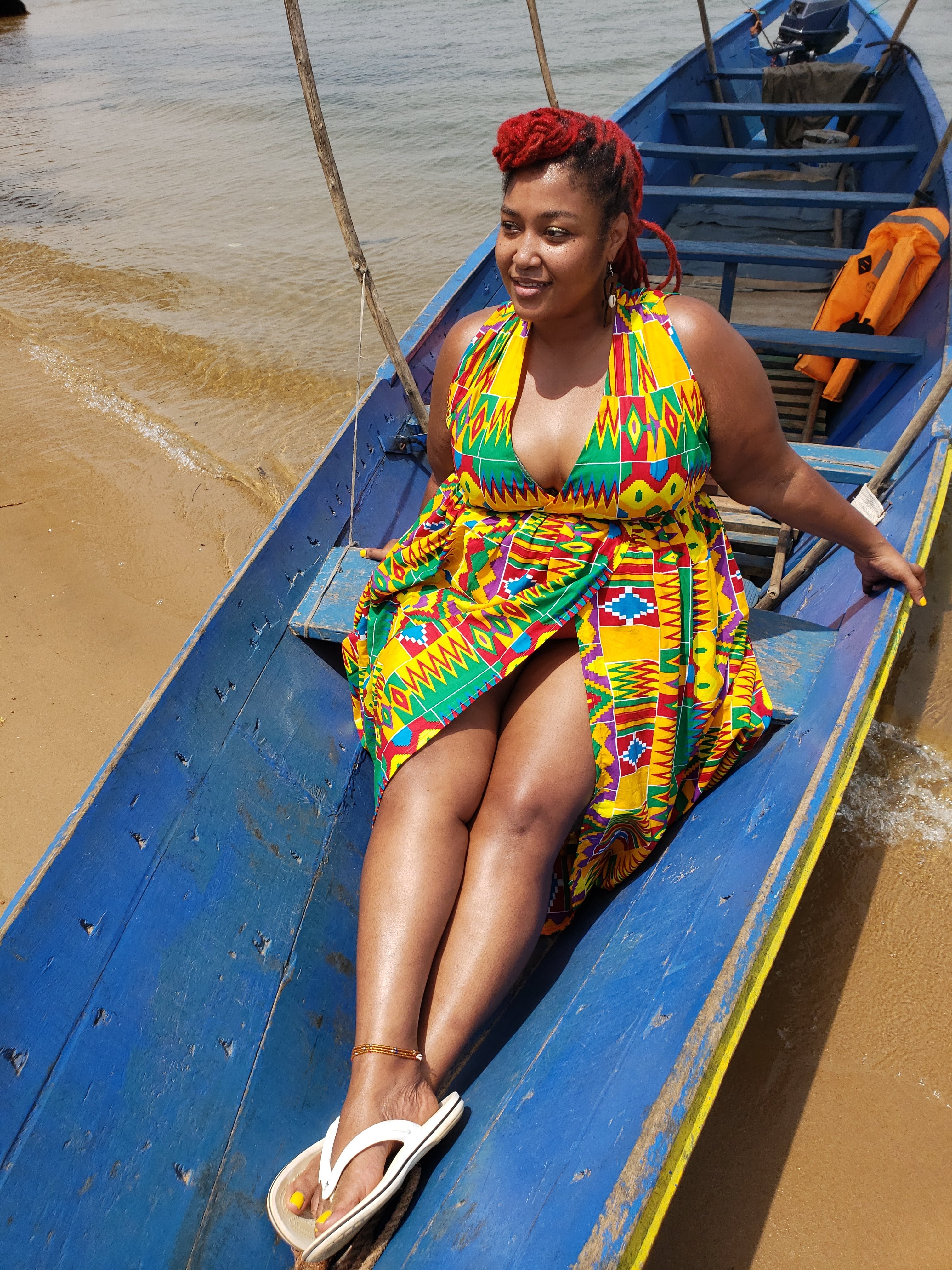 My name is Rachaelle and I love waistbeads! I fell in love with waistbeads when I visited Ghana in March of 2019. It was my first international solo trip. 
I chose Ghana because I wanted to feel more connected to my roots and learn more about the origin of where my ancestors are from. I can not say that Ghana is the exact country in Africa that my Haitian ancestors were taken from, however from what I have read most of the people that were put into slavery in Haiti and other neighboring islands were likely enslaved from west Africa. 
While in Africa I met people that were caring and genuinely opened their homes to me; they shared their rich heritage, delicious food, colorful and vibrant culture. My travel guide Enyo from Enyo Bruku Travels took me to Makola market; there were a variety of beads made from material ranging between glass and wood. The colors of the beads were bright and beautiful; as I spoke with the merchants about the various styles and patterns I learned that the colors have different meanings and beads are used in rituals, religion, and ceremonies. 
African women have traditionally worn these beads as a symbol of femininity and prosperity for centuries.After choosing the colors I was most attracted to, the merchant explained the meaning behind the colors I chose; I was happily surprised that the colors I chose corresponded with what I needed and was experiencing within my life at the time. 
As the days went by I would stop as I usually do to look at my waist in the mirror However my thoughts were different. Before I would focus on what I needed to change, how much weight I wanted to lose. 
Waistbeads changed the way I looked at my waist. The beautiful colors of the beads popped against my complexion, and the feeling of my waistbeads made me feel powerful, strong, and sexier. I felt as if I had the strength and power of my maternal ancestors wrapped around me. My waist beads also brought my attention to the curves of my hips; I felt sexier then I had before. I loved knowing I had them on and no one else knew, then there were times that I loved the way it would attract an admirer's attention. 
I love waistbeads; I wanted other women to feel what I felt. 
I have now been working with women for over three years; and it has been a blessing to see how my business has evolved into an alternative wellness pratice in which I merge my educational background in social work with my cultural and spiritual upbringing to help women tap into their own power. My practice is a safe space. I am providing brief coaching while using waistbeads as a tool to help women become more intentional with their words and actions, focused on their goals, grounded, and manifest the lives they deserve to live.You can expect to see much more in the coming years.
Peace, Love, and waist-beads.