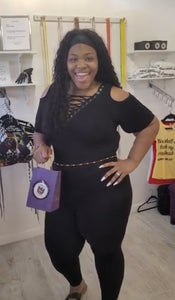 We are located in Port Saint Lucie. 
THIS is NOT a private session. The shop is open for multiple beautiful souls to shop. Please expect multiple people to be shopping as well.
***What to expect at your session
•I will go over the color meaning 
• I will answer all your questions 
• I will tie your waist beads
• This is a safe space for all humans 💕
This appointment booking is for one individual, if you are bringing multiple people with you please text me and let me know. We limit the amount of people at each time slot to make the experience enjoyable. 
*** Funds are refundable if the booking is canceled 48 hours in advance.
The $20.00 charge goes towards your waist bead purchase. 
The entire deposit must be used at your appointment. If you have any questions please call me.