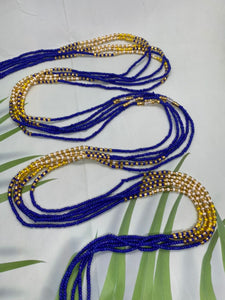 Have you heard the story of Yemaya and Oshun?
Yemaya and Oshun are two powerful Orishas who represent the beauty and complexity of feminine power. Their relationship symbolizes the importance of sisterhood, support, and collaboration. By working together, they show us that we can achieve greater things than by working alone. ~ Original Botanica 
May this beautiful waist bead remind you of the power of sisterhood.
Blue – Loyalty, peace, hope, healing, patience and truth
Yellow  – Energy, joy, and happiness
Gold –  Good health, success, courage, power, wealth, and setting boundaries
Tie on waist bead can fit up to 50 inch waist