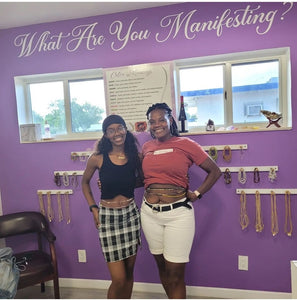 You will recieve a email or text message with our Port Saint Lucie address.
***What to expect at your session
•I will go over the color meaning and brief information regarding color psychology
•We will have a discussion about everyone's goals/intentions
• I will guide you in communicating lovingly to your child while you adorn her waist
• I will guide each of you with selecting mantras/affirmations for each waist bead
• Together you will practice Mirror Work and sealing your intentions
• I will answer all your questions
• Adorning of waist
• This is a safe space for all humans 💕
Cell phones must be turned off during the session. This time is for you and your daughter(s) to be present, seen, and heard! Please bring a pair of socks. Shoes aren't allowed in the shop.
*** Funds are not redundable.
❣️ The deposit goes towards your waist bead purchase.