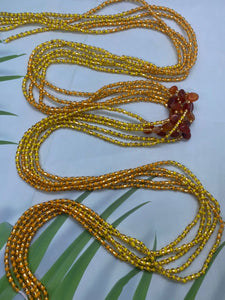 "I am learning every day to allow the space between where I am and where I want to be to inspire me and not terrify me." ~Tracee Ellis Ross.
Traditional Tie on waist bead is meant for permanent wear
Materials used: Cotton string, stones, and glass seed beads
The waist bead fits up to 50 inches and can be adjusted down to fit any waist size
Please take a look at the "How to tie" video that is on this website
Ships within 5 business days
****************************************************
Gold –  Good health, success, courage, power, wealth and setting boundaries
Orange – Courage, energy, vitality, self-confidence, and magnetism
Carnelian is great for tapping into creative energy. It aligns with our sacral chakra—responsible for creativity and sexual energy —and enables us to tap into our inner gifts and strengths, It can also be used to remove blocks that leave us feeling burnt out, uninspired, and stuck.